A Leader In Compounding
Our expertly trained pharmacists and friendly staff pride themselves on making sure your pharmacy experience exceeds expectations.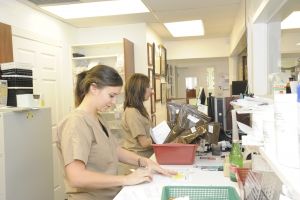 Village Compounding Pharmacy is a leader in customized solutions for patients. For over 40 years we have been dedicated to enhancing patient care by providing custom medications tailored to patients specific needs. We hope you'll learn more about us very soon!
At Village Compounding Pharmacy we don't just fill your prescription, we are your partner in achieving your health goals. Our staff of highly trained pharmacists and technicians and state-of-the-art equipment ensure patients receive the highest level of quality, safety and personal attention including expert consultations and continued patient education.
If you are a patient, we invite you to visit the pharmacy to give you a better idea of the customizations we can provide for you or your loved one's specific needs.
If you are a practitioner, you may learn more about the various types of dispensing methods we can suggest for any application.
Village Compounding Pharmacy is proud to have worked with top institutions, world-class athletes and brilliant minds in the medical community, however our strongest testament to our success is rooted in our everyday customer. We strive for customer satisfaction and our business success depends on positive experiences.
"We became part of PCCA (Professional Compounding Center of America) in 1981. Over the last 32 years we have seen our practice grow into a multi-faceted healthcare corporation. We are one of the largest compounding pharmacies in the U.S. and have developed many protocols that are now the standard of the industry."
– Phillip Pylant, Founder of Village Compounding Pharmacy